[ad_1]
Image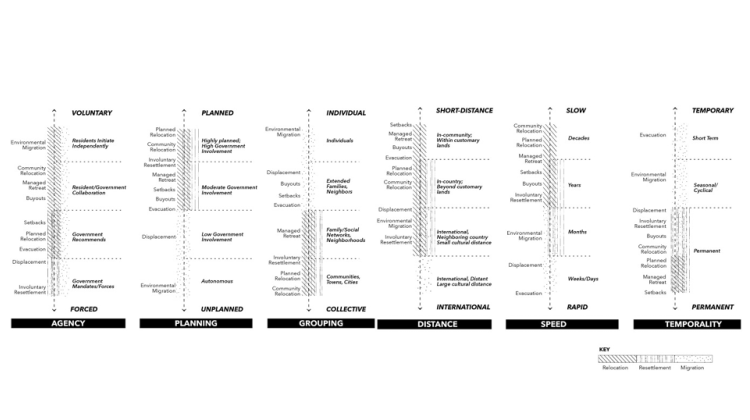 The global climate crisis is already changing the desirability and viability of locations as living sites. And even if we meet global goals of carbon emission reductions, the intensifying impacts of the anthropocene are likely to compel humans to greater levels of migration within nation states and across international borders. This mobility in response to climate risk, broadly defined as environmental relocation, includes retreat, migration, and resettlement. Because of this broad definition, current research and practice lack a framework for defining, assessing, and understanding the many modes of risk-based movement. 
In a paper for Global Environmental Change, Lizzie Yarina and James Wescoat offer a typological framework emphasizing relocation as spatial processes shaped by environmental risk. By centering environmental risk, their framework focuses on the process of relocation, retreat, and resettlement through six attributes: agency, planning, grouping, speed, distance, and temporality.
"This paper emerged from how we were seeing language around retreat and relocation being used–or misused–in practice," said Yarina. "Instead of providing our own definitions of these often fuzzy terms, we wanted to create a framework that highlighted the range of meaning of terms related to environmental relocation." 
Yarina is a doctoral candidate in the MIT Department of Urban Studies and Planning whose dissertation work investigates the spatial politics of climate change adaptation in Vietnam's Mekong delta. Her research critically examines the tools adaptation experts use, and the political ecology of how environmental interventions hit the ground..
Wescoat is the Aga Khan Professor in the Department of Architecture at MIT. His research has concentrated on water systems in South Asia and the United States from the site to river basin scales. He has conducted water policy research in the Colorado, Indus, Ganges, and Great Lakes basins, including the history of multilateral water agreements
Read their full paper, "Spectrums of Relocation: A typological framework for understanding risk-based relocation through space, time and power"
[ad_2]
منابع:
۱- igupa.ir ,Spectrums of Relocation ,2023-07-24 22:50:04
۲- https://dusp.mit.edu/news/spectrums-relocation?rand=3761