[ad_1]
A Manifesto for the Just City: Cities for all


Keywords:


Just City, Spatial Justice, New Urban Agenda, World Urban Campaign, Democracy, Participatory planning, Urban visioning, Manifesto
Synopsis

This book addresses the need to re-imagine and re-conceptualise the Just City in light of recent systemic shocks: climate change, the pandemic, a generalised erosion of democratic standards and more. It contains texts by a number of guests and 43 manifestos written by students from 25 universities from all over the world.
A "Manifesto for the Just City" comes in the wake of the realisation that socio-spatial justice is a crucial dimension for sustainability transitions. Growing inequality and the erosion of the public sphere undermine the social and political structures required to fight climate change, pandemics and other systemic shocks. With this book, we have sought to encourage students to formulate their own visions for the Just City and for a just transition.
This book is result of an Urban Thinkers Campus organised between 9 and 30 November 2020. The Urban Thinkers Campus (UTC) model is an initiative of UN-Habitat's World Urban Campaign, conceived in 2014 as an open space for critical exchange between stakeholders and partners. It aims to promote debate and action on sustainable and inclusive urbanization upholding the principles and guidelines contained in the New Urban Agenda, launched at Habitat-III in 2016 in Quito, Ecuador.
Downloads

Download data is not yet available.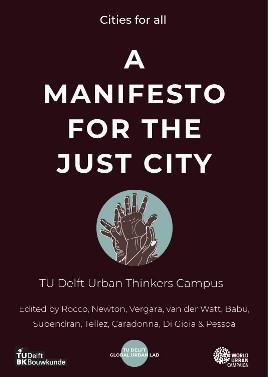 Download PDF


[ad_2]
منابع:
۱- IGUPA.ir ,
A Manifesto for the Just City: Cities for all
, ۱۶۸۸۴۹۶۶۰۴
۲- https://books.open.tudelft.nl/home/catalog/book/14?rand=5085,2023-07-04 23:20:04