[ad_1]
Towards Improved Flood Defences: Five Years of All-Risk Research into the New Safety Standards


Keywords:


flood defences, safety standards, dikes, risk framework, flood risk management
Synopsis

Without our dikes and dunes, 60% of the Netherlands would flood on a regular basis. This area is home to 9 million people.
The latest report of the Intergovernmental Panel on Climate Change (IPCC, February 2022) underlines the importance of reinforcing water safety. Sea levels are rising and extreme weather is becoming increasingly common. The Flood Protection Programme, the largest Dutch water safety operation since the Delta Works, will help us minimise the likelihood of flooding.
New knowledge and innovation are urgently needed The Dutch dikes have stood firm for more than 1,000 years. After disasters in 1916 and 1953, storm surge barriers and dams have been added to the network of protective dikes. Following the floods in 1993 and 1995, the Room for the River programme was implemented. New knowledge of flood risks led to the introduction of new, often stricter standards for flood defences in 2017.
Funder: NWO Domain Applied and Engineering Sciences P15-21.
Downloads

Download data is not yet available.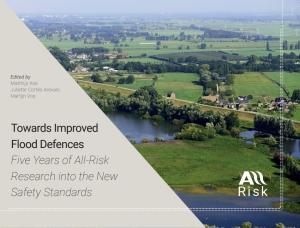 Download PDF


[ad_2]
منابع:
۱- IGUPA.ir ,
Towards Improved Flood Defences: Five Years of All-Risk Research into the New Safety Standards
, ۱۶۸۸۲۳۱۴۰۴
۲- https://books.open.tudelft.nl/home/catalog/book/31?rand=5085,2023-07-01 21:40:03