[ad_1]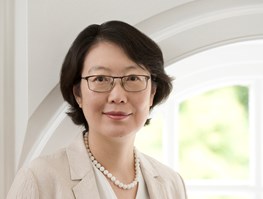 The Construction Industry Council (CIC) has today inaugurated Past President of the RTPI Dr Wei Yang as Chair at its Council Meeting. The appointment of Dr Wei Yang provides CIC with its first female Chair, in addition to being the first Chair born outside of the UK and Ireland.
Dr Wei Yang, an internationally renowned town planner and urban designer, has extensive experience in leading multi-disciplinary teams and implementing large-scale regeneration and low carbon master planning projects in Britain and internationally. Wei is an influential thought leader and a powerful advocate for climate actions, nature-based solutions, health & wellbeing, and social equality.
On taking up her new role, Dr Wei Yang said: "I am delighted to have become the first female Chair of CIC – a forum for built environment professionals to share our best practices without professional boundaries.
"Our living environment has a direct influence on our daily activities, health, and wellbeing. The responsibility of our sector is not just building physical objects; we are here to create places embodied with empathy, inclusivity, and creativity.
"Through my role at CIC, I will dedicate my efforts to strengthen interdisciplinary collaborations between built and natural environment professionals to stimulate mindset changes within the sector for a better future."
CIC's outgoing Chair Justin Sullivan CIC said: "I have had the pleasure of working with Wei for the last year and would like to thank Wei for her counsel and support. We collectively at the CIC have made great progress to meet the challenges around building safety and our climate change action plan for professional institutions has moved forward the debate around how to achieve net zero and protect biodiversity.
"Wei's thought leadership and powerful advocacy for climate action, nature-based solutions, health and well-being and social equality ideally suit her for the incredibly challenging and exciting time ahead. CIC is an organisation that has never been more relevant for our members and professionals within the built environment. I am confident that Wei will continue the good work and make a great success of the role."
[ad_2]
منابع:
۱- igupa.ir ,Past President of the RTPI Dr Wei Yang becomes CIC's first female Chair ,2023-06-29 21:05:04
۲- https://www.rtpi.org.uk/news/2023/june/past-president-of-the-rtpi-dr-wei-yang-becomes-cic-s-first-female-chair/?rand=3770