[ad_1]
Connecting Alumnae/i and Students to Showcase Real Impact
Image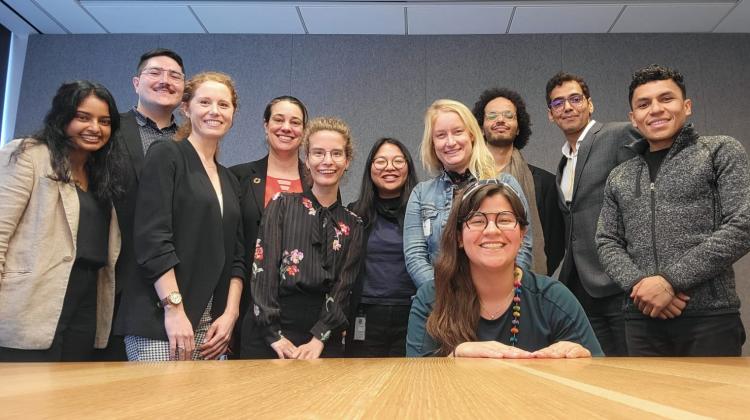 Whilst in the midst of the competing deadlines, accumulated readings, and the need to take at least a few hours of the day to recover, it can be difficult for graduate students to reflect and assess how the knowledge and skills they accumulate in graduate school will affect their future careers. The annual NYC DUSPConnect Career Trek offers a window into that future – and more.
The Trek was started in 2008 as DUSP's response to an overture made by several 2003 Masters of City Planning (MCP) alumni who wanted to give back to the DUSP student community by offering insights into how their time at DUSP shaped their current work, the impact they were generating, and their significant achievements just five years after graduation. What better way than to showcase all of this than for students to visit NYC and see it for themselves.
The NYC Career Trek has become an annual tradition, often involving more than fifty current DUSP students, who travel to NYC to visit various organizations where DUSP alumnae/i currently work — typically thirteen to sixteen public, private and non-profit institutions. Most years there will also be a site visit to a key NYC project. The day ends with a happy hour usually with more than 100 students and alumni/ae in attendance. 
"The Trek represents an important opportunity for current DUSP students in two key ways. Engagement with alumnae/i in their respective organizations provides tangible examples of how the skills we learn in the classroom can translate to numerous, varied career pathways across many sectors," said Emilie Flamme, a current MCP candidate at DUSP and participant in the 2023 Trek. "This first-hand experience allows students to seek out additional conversations and to prepare for the next steps of their professional development, through additional classes or job applications to institutions they are now more familiar with. Discussions with alumnae/i ground current DUSP students in a broader community whose institutional knowledge and shared values enrich our understanding of DUSP, notably after the COVID-19 Pandemic created gaps in our understanding of the department."  
DUSPConnect is DUSP's career and alumni relations office, led by Mary Jane Daly (MCP '۸۳). DUSPConnect offers professional development services to help students and alumni reach their full potential and have evolving, impactful careers by providing students with a high-level of support, tools, resources, and opportunities for professional development while at MIT and throughout their career. 
"MIT exists to have an impact, to disrupt and innovate across systems that are not working and to refine systems that are working well. Most people associate this impact with the research that is conducted at MIT, but MIT has such an amazing impact on the world through the work of alum," said Daly. "We often say planners are envisioning the world that ought to be, and DUSP alumni/ae are literally out in the world every day making it a better place. The NYC Trek is so special because it offers an important opportunity for students to witness this, and to connect with alum, strengthening the DUSP community and enhancing its collective impact."
[ad_2]
منابع:
۱- igupa.ir ,Connecting Alumnae/i and Students to Showcase Real Impact ,2023-06-24 18:15:03
۲- https://dusp.mit.edu/news/connecting-alumnaei-and-students-showcase-real-impact?rand=3761